Wireless PAN Devices
Bluetooth Devices
In Part IV the wide range of PAN technologies will be described, from Bluetooth, which is most commonly identified with personal area networking, to ZigBee, an emerging technology primarily aimed at networking home and industrial control devices.
In fact with high powered (Class 1) Bluetooth radios, which can equal the range of Wi-Fi devices, the boundary between personal and local area networking is blurred and, within the limitations of achievable data rates, most of the WLAN devices could equally well be built using Bluetooth technology.
The most common types of Bluetooth devices and some of their key features are summarised below and shown in Figure 1.
Mobile phone - Interface with a Bluetooth hands-free headset. Connect to PDA or PC to transfer or back-up files. Exchange contact details (business cards), calendar entries, photos, etc. with other Bluetooth devices.
PDA - Connect to PC to transfer or back-up files. Connect to the Internet via a Bluetooth access point. Exchange contact details (business cards), calendar entries, photos, etc. with other Bluetooth devices.
Headset or headphones - Hands-free mobile telephony. Audio streaming from PC, TV, MP3 player or hi-fi system.
Audio transceiver - Audio streaming from a PC or hi-fi system to Bluetooth headphones.
Access point - Extend a LAN to include Bluetooth enabled devices. Internet connectivity for Bluetooth devices.
Bluetooth adapters - Bluetooth enable a range of devices, such as laptops or PDAs. As for WLAN NICS, they are available in a range of form factors, with USB dongles being the most popular. Serial adapter for plug-and-play connectivity to any serial RS-232 device.
Print adapter - Print files or photos from Bluetooth enabled device.
PC input devices - Wireless connectivity to a PC mouse or keyboard.
GPS receiver - Provide satellite navigation capabilities to Bluetooth-enabled devices loaded with required navigation software.
Dial-up modem - Provide wireless connectivity from a PC to a dial-up modem.
As developing wireless PAN technologies such as wireless USB mature, a comparable range of devices will be developed to support these networks. Novel capabilities inherent in these new technologies will also result in new device types offering new services, an example being the capability of the multi-band OFDM radio to spatially locate a wireless USB station, offering the potential for devices that rely on location based services.
ZigBee Devices
ZigBee is an emerging low data rate, very low power, wireless networking technology that will initially focus on home automation but is likely to find a wide range of applications, including a low cost replacement for Bluetooth in applications that do not require higher data rates.
The key features of a range of currently available and expected ZigBee devices is summarised below, and some of these devices are shown in Figure 1.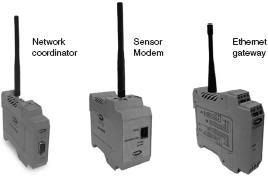 PC input devices - Wireless connectivity to a PC mouse or keyboard.
Automation devices - Wireless control devices for home and industrial automation functions such as heating, lighting and security.
Wireless remote control - Replacing Ir remote for TV etc., and eliminating the line-of-sight and alignment restriction.
Sensor modem - Provides a wireless networking interface for a number of existing current loop sensors for home or industrial automation. -
Ethernet gateway - A ZigBee network coordinator that enables command of ZigBee end devices or routers from an Ethernet network.
Wireless PAN antennas
In practice, since PAN operating range is generally under ten metres, Bluetooth and other PAN devices will typically use simple integrated omnidirectional antennas. However, for PANs such as Bluetooth that share the 2.4 GHz ISM radio band with 802.11b/g WLANs, the wide range of external WLAN antennas described above are also available to enable PAN devices to be operated with extended range.
Wireless MAN Devices
While wireless LANs and PANs present a wide diversity of topologies and device types, to date wireless MAN devices have serviced only fixed point-to-point and point to multi-point topologies, requiring in essence only two device types, the base station and the client station.
However, following the ratification of the 802.16e standard (also designated 802.16-2005), broadband Internet access will soon be widely available to mobile devices and a range of new mobile wireless MAN devices is emerging, driving the convergence of mobile phones and PDAs.
Fixed Wireless MAN Devices
Wireless networking devices for fixed wireless MAN applications, essentially for last mile broadband Internet access, fall into two categories — base station equipment and customer premises equipment (CPE). Some examples of base station equipment to support wireless MANs of differing scales are shown in Figure 2.

The macro scale base station shown can potentially support thousands of subscribers in dense' metropolitan area deployments, while the micro scale equipment is designed to support lower user numbers in sparse rural areas. Some of the types and key features of base station and CPE hardware are summarised below.
Basic self installed indoor - Basic WMAN connectivity to a customer PC or network. Multiple diversity or adaptive array antennas to improve non line-of-sight reception.
CPE Outdoor - External antenna and radio. Provides higher antenna gain and longer range.
CPE Base station equipment - Modular and scalable construction. Macro and micro configurations for dense metropolitan or sparse rural installations. Flexible RF channel usage, from one channel over multiple antenna sectors to multiple channels per antenna sector.
Integrated network gateway - MAN interface with network gateway functions (Routing, NAT and firewall capabilities). Optionally with integrated

wireless LAN access point

. Integrated CPU to support additional WISP services such as VoIP telephony.
Figure 3 shows a variety of different wireless MAN CPE equipment.
Fixed Wireless MAN Antennas
Antennas for fixed wireless MAN applications similarly divide into base station and CPE. The general types of antennas summarised earlier for LANs are equally applicable to MAN installations, with appropriate housings for outdoor service and mountings designed for wind and ice loading.
The factors that determine the choice of antenna are summarised in Table below.
| | | |
| --- | --- | --- |
| Location | Antenna type | Application |
| CPE | Omnidirectional | Low gain requirement — for subscribers located close to the base station. |
| | Patch | Intermediate gain — mid range equipment should be applicable to most subscribers. |
| | Directional (Yagi or parabolic reflector) | High gain, high cost equipment to maximise data rate at the edge of the operating area. |
| Base station | Sector, intermediate gain | Wide area coverage close to the base station. Wider vertical beamwidth required to provide coverage close to the base station. |
| | Sector, high gain | Wide area coverage at a distance from the base station. High gain adds range with narrower vertical beamwidth. |
| | Directional | High gain antenna for point-to-point applications, such as backhaul, bridging between base stations, etc. |
Depending on its elevation relative to the target area, a base station may comprise two sets of sector antennas as illustrated in Figure 4.
A set of intermediate gain antennas, with higher vertical beamwidth, provide coverage over short-to-medium distances, with a second set of high-gain, low vertical beamwidth antennas providing coverage at longer range.
Mobile Wireless MAN Devices
The first implementation of mobile wireless MAN services and devices, delivering broadband Internet access to the user on the move, has been in the South Korean market, driven by the rapid development of the WiBro standard. Commercial uptake has also been speeded by the use of licensed spectrum, and the granting in 2005 of operating licences to three telecom companies.
The form factor for devices to deliver mobile Internet services reflects the need to combine telephony and PDA capabilities — a larger screen and QWERTY input to overcome the limitations experienced with WAP phones. Figure 5 shows two early WiBro phones developed by Samsung.